Big Sky Fitness Fusion offers Barre,  Spinning, Kickboxing, Yoga, Power Pump, Kettlebells, Personal Training,Reformer, Tower and chair Pilates classes, Mat Pilates, PiYo, Zumba, Kids Fitness, Gymnastics, and Tae Kwon Do in a fun, safe, and non-intimidating environment.
Just like the name-Fitness Fusion– implies, every class and personal training session fuse together resistance training, cardio, core, abs and stretching to give you a full body workout that is physique changing, heart pumping, and mind/body motivating.
Big Sky Fitness Fusion focuses on teaching an individual how to become healthier, stronger, happier and more balanced physically, mentally and emotionally.
---
Jolene Callahan  

Owner and Head Instructor of Big Sky Fitness Fusion & Pilates, LLC.  She is an IFA certified Personal Trainer and Group Exercise Instructor,  Balanced Bodies certified Pilates and Body Barre instructor, Spinning certified, and an AFPA Pre and Post Natal Exercise Specialist. She is also a USA Gymnastics certified Preschool and Recreation Gymnastics Instructor.
Jolene has been working in the health and fitness industry as a personal trainer and group exercise instructor for the past 15 years, and has been a Pilates instructor for the past 5 years. She has been teaching gymnastics for the past 18 years, and was a level ten gymnast, one of the highest levels in the sport.  Being an avid rock climber, snowboarder, mountain biker and hiker, lets her enjoy all the beauty that her home state of Montana offers.
---
Wendy Miller        
Wendy Miller has been working in the fitness industry for over ten years. She grew up studying ballet and has always loved to use dance as a method to keeping fit. "I love the focus on posture through core strength that dance, barre-style classes & pilates provide."
After having her first child, she found a perfect outlet for keeping fit with Stroller Strides, a pre & postnatal mom & baby fitness class which incorporates mom, child, stroller and the beautiful outdoors. Her enthusiasm for Stroller Strides led Wendy to own the franchise which she offered throughout the Bay Area for nearly five years. "It is amazing to see the healthy results in my clients and the joyful faces of their children as they learn how to maximize their workouts…"
After Wendy's third child was born, she discovered and fell in love with The Dailey Method where she soon became certified to teach the method which focuses deeply on the core through yoga, pilates, & ballet moves. "I have never seen such quick results and a dedicated following as I have seen with barre style core exercises." Wendy taught for over four years at The Dailey Method, where she was able to train under the founder, Jill Dailey, until she and her husband moved the family to Big Sky in 2013!
Wendy is also a fan of teaching little ones how to enjoy fitness and how to move through dance. She will be providing a yoga dance movement class to our younger clients.
Wendy will be instructing a variety of classes at Fitness Fusion from barre, pilates, and reformer to a variety of group fitness classes like kickboxing. She is greatly fulfilled by helping others meet their fitness objectives and looks forward to helping you with yours.
---
 Allison Gilley  
 Are you ready to party yourself into shape? Zumba classes feature exotic rhythms set to high energy Latin and international beats. Before you know it, you'll be getting fit and your energy levels will be soaring! It's easy to do, effective and totally exhilarating! No dance experience necessary. If you love to have fun, this is the workout for YOU!!
Allison has been passionate about Zumba for 5 years. She is certified in Zumba, Zumba Toning, Aqua, Gold and recently obtained her Zumba Pro Skills certification. She also specializes in Zumba Glutes and Core.  She is an amazing Zumba instructor and wonderful mother.
---
 Megan Gorder
I am originally from North Dakota, but I have called Montana home for the last 10 years.  My love for the mountains and being outdoors brought me here.  I have a degree in Environmental Studies from Montana State University and a Geographic Information Systems graduate certificate from the University ofNorth Dakota.  In the winter I love to snowmobile and snowboard.  In the summer I love to mountain bike, dirt bike, hike, ride horses, hunt, and do just about anything on the water.  
I have been teaching group fitness for 3 years now and very excited to share my knowledge with you.  While I have always been an active person, my passion for fitness started about a year ago when I started an at home PiYo program.  Now, I am a Beachbody coach and am certified to teach PiYo Live.   Piyo Live is a low impact, high intensity workout that is set to great music.
_________________________________________________________________________
 Katie Grice

Katie Grice moved to Big Sky in 2007 for "a season", and never left. Originally from Mic
higan, she loves to ski, fish, and her newly found passion is mountain biking.
Katie loves to bring a high energy attitude with music to match during her classes.

---
 Krystn Perdue
I grew up outside of Boston, MA.  Attended college in Louisiana and Graduated with a degree in Exercise Physiology. I Ran my own Personal Training business for the next 7yrs.
In 2004, gave birth to my first child and began focusing solely on group fitness
Spent the next several years training and getting certified in various formats:
Water Aerobics, Step Aerobics, Mat Pilates, weight lifting, Boxing and Kickboxing.
In 2006 had baby #2 and moved to Montana.  Began at The Ridge right away and stayed a few years until we moved to Big Sky (even tried to commute for awhile).Presently my husband, our two children and our new puppy live in Big Sky.  Arguably the most beautiful place on this planet.  We love to ski (Nordic & downhill), hike, horseback ride, get on the river for different reasons and couldn't imagine living anywhere else.  Fitness for me is a way of life and has been since my late teens.  I can't live (happily) without it!
_________________________________________________________________________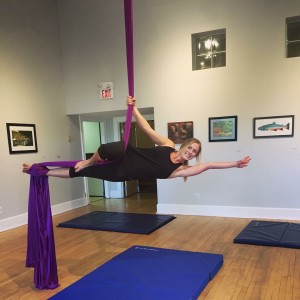 Chelsie Dubois
A born and raised Oregonian she loves the outdoors and being active. Most of her childhood was spent doing gymnastics from the age of 2 up until age 16 finishing  competing at level 8. Her active lifestyle didn't stop when she finished gymnastics. With a gymnastics background she was a natural fit for pole vaulting on her high school track team. In college she fell in love with snowboarding and found her love for Pilates. Taking Mat Pilates classes 7 years straight in college, she desired to become a Mat Pilates instructor to help teach people the amazing benefits of a lifelong Pilates practice. 
With their love of mountains and the outdoors, Chelsie and her husband Travis moved to Big Sky, Montana in the Winter of 2015. They love Big Sky and hope to raise a family in these great outdoors sometime in the future. For now you can find Chelsie teaching Mat Pilates, doing Real Estate, snowboarding, snowmobiling, camping and hiking, attending community events, and playing outside with her husband and their yellow lab, Kenai.